Getting Your Clients Involved
Planscope makes it simple for you and your clients to get on the same page. In this section, I'll show you how to invite your clients into your projects, ditch email in favor of task-centered communication, and keep them updated.
Inviting your client to your Planscope project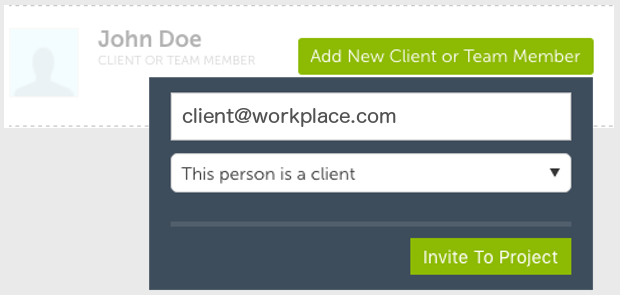 Click "Manage", and click "Add New Client or Team Member" under the "People involved on this project" section. Type in their email address, ensure "This person is a client" is selected, and invite your client.
They'll get an email invitation asking them to join this project. Once they click the invitation link in the email and setup their account (we ask for their name and to set a password), your client will have access to just this estimate.
Communication around tasks
At the heart of Planscope projects are tasks; often, though, you have questions that need to be answered in order to complete a task.
Each task can be commented on, and any comments added will be emailed to all other members of your project. Best of all, you and your clients can reply to comment emails directly from their inbox, and Planscope will automatically keep track of that comment within the relevant task.
If you're drowning in a sea of email, and spend much of your day searching around trying to find the details you need to complete a requirement, those days are over. All of your communication will now be neatly threaded in the appropriate Planscope task.
Reviewing tasks
You want your client to review and either approve or send back tasks as quickly as possible.